Using the NNFX Algo Tester on a Bybit account (Post 2022-05-22)
In a Bybit account the base currency will be USDT and not USD and this causes some problems when calculating prices. So we should change our account currency in the "Testing" tab to "UST" instead of USD, EUR, etc.
In the parameter "ACCOUNT BASE CURRENCY" in the NNFX Algo Tester leave "USD" selected. In addition, you should disable the MARGIN CHECK (select DON'T CHECK) and adjust the Safety Limits to the instrument you are using.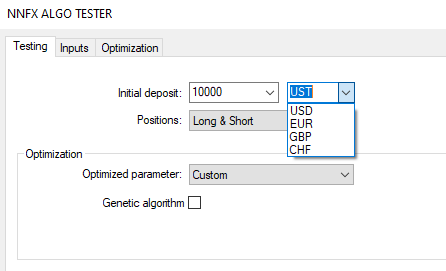 Any additional questions do not hesitate to contact support. Thank you.